Greetings!
My name is Daniel Park, currently a junior attending the International School of Qingdao. It is a privilege to serve you as the Head Chair of the Disarmament Commission for TIANMUN VIII. This year's TIANMUN will be my 8th MUN conference and 4th conference serving as the student officer.
By recognizing the theme of TIANMUN VIII: "Global Sustainable Recovery", it is now your responsibility to represent your delegation and debate on the rising issues in the world. I highly encourage each participant not to step back from enunciating their opinions and seize this opportunity of demonstrating their leadership. TIANMUN VIII will definitely allow every delegate to push themselves for developing their leadership potentials.
I still remember my first conference, my first Point of Information, and my first speech. I was frightened to speak in front of other delegates since my hands and voice shivered all time when I had to project my voice at the microphone. Also, I was embarrassed when other delegates called Point of Personal Privilege due to inaudibility. It was a moment I did not want to experience again. However, I have cherished these fundamental experiences that I obtained from previous MUN conferences. As a result, I was able to improve as the public speaker and not be afraid of voicing out my ideas. Therefore, I suggest you to challenge yourself and walk on the process of becoming comfortable with public speaking.
If you have any questions during the debate, you are always welcome to ask questions in a note form. I will be glad to answer any questions you may have 🙂
I'm eager to have a fruitful debate and discuss creative clauses on the resolutions! See you all at TIANMUN VIII!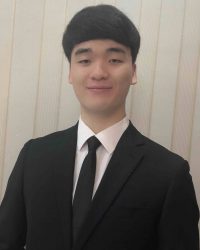 Hello, my name is HyeongJae Jeon a Junior at Tianjin International School. I am very honored and pleased to serve all of you as a deputy chair of Disarmament Commission of TIANMUN VIII. This conference is my 10th MUN conference and 1st conference as a Chair. I am very delighted to meet the delegates and cannot wait to see a fruitful debate.
To many delegates, MUN might be a very stressful, boring, and formal place. (If it isn't, good for you). But just so you know, whatever activity you are participating in, how fun everything becomes is how much you enjoy it. Don't be scared of other people's eyes. Don't be scared of making mistakes. Raise your placard and actively share your opinion on resolutions or other's speeches. Actively participate again and again, and you will become a great public speaker that everyone would appreciate.
Delegates I also encourage all of you to prepare yourself, at least in some degree, for all four topics of this conference. I understand this is not something what you would want to as I also didn't have fun preparing for all four topics. But just so you know, if you prepare for all four topics, you will find yourself more comfortable debating and speaking during three days of TIANMUN VIII conference.
Jia you, and let's have fun at TIANMUN VIII disarmament commission.
Hello! I am David (WooHyuk) Lee, a rising senior at Yantai Huasheng International school who will be serving the Disarmament Commission of TIANMUN VIII as a deputy chair. TIANMUN VIII will mark my third and last TIANMUN, and I am truly happy to serve the committee with my amazing co-chairs: Daniel and HyeongJae.
I am aware that this conference may feel a little bit overwhelming and complex for some of you. Ironically, I was in the same shoes during TIANMUN IV, my first MUN conference. Now, if I were to give a word of advice to you that allowed me to survive the serious, scholarly, or even scary atmosphere of a MUN conference throughout my whole career as a delegate, is "confidence". Just like the famous saying "You are your only limit", if you do not believe in yourself, your speech, and your resolution, no one will do the same for them. Thus, I want to encourage all of you to be confident during the entire conference.
Lastly, I want to remind you that chairs are often the most caring people in the entire committee. With that being said, I hope you feel comfortable when it comes to reaching out to the chairs for any circumstances before, during, and after the conference. I look forward to seeing a debate full of confident delegates!